"Love is the flower you've got to let grow." – John Lennon
Have you ever thought about the flower meanings and the hidden symbolism behind gorgeous & colorful flowers? This really is true! Various ancient cultures, including the Greeks, Chinese, and Romans, as well as Egyptians and Romans, assigned each flower a meaning. Roses are associated with many goddesses, including Aphrodite (Greek goddess of love) and Venus (Roman goddess of love). For example, Lilies are thought to represent purity in medieval art, as they represent the Virgin Mary. Several works of literature have used this "symbolic language of flowers," including those by William Shakespeare. As part of Hamlet's act IV, Ophelia presents the audience with a bouquet that includes rosemary (remembrance), columbine (foolishness), and violets (faithfulness).
When you plan your flower garden or order flower bouquets delivery in Al Ain for your loved ones on special occasions and celebrations, remember what you're really saying or what message you want to convey with your flower gift. Could it be that you're conveying a hidden message or just planning to greet the good morning? Flowers should be picked with utmost carefulness and knowledge about the hidden meanings of flowers. It was the Victorians who were experts at expressing their emotions through flowers instead of words. When it's as simple as sending a yellow carnation to express dislike, there's no need to go through the uncomfortable process of rejecting a suitor.
Would you like to know more about the meaning of those bewitching flowers you just received? Discover the best flower with meaning from the ultimate flower meaning guide we have curated for you –
1. Daisies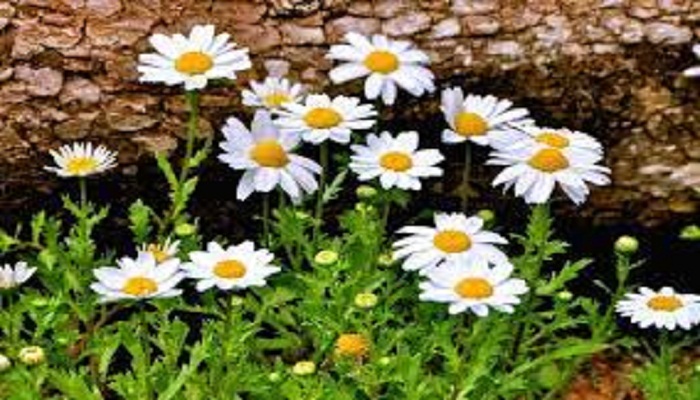 Daisy flowers are composite flowers, which means they are comprised of two different flowers. A disc floret is an inner section, and a ray floret is an outer section. The white daisies continue blooming until fall, making this plant a perennial favorite. Giving them to someone in need of support and encouragement is the perfect gift
option because they represent innocence and hope. In addition to their composition of two flowers that blend so well together, daisies also symbolize true love. So, if you wish to send basket flower arrangements online to your loved ones, make sure to include a few stems of daisies in it for a memorable experience.
2. Forget-Me-Not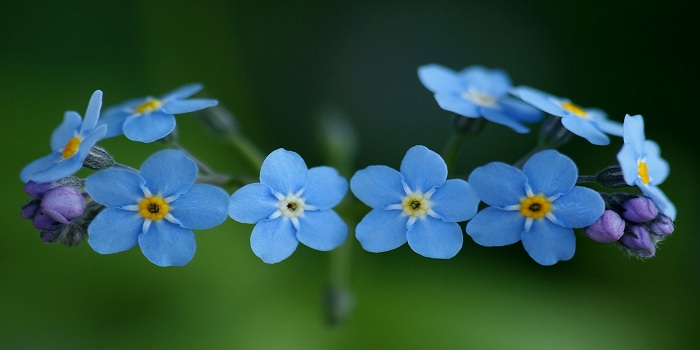 This small and delicate flower symbolizes true love memories, as its name suggests. They're a sweet gesture and a reminder of how deep love can be.
3. Bird of Paradise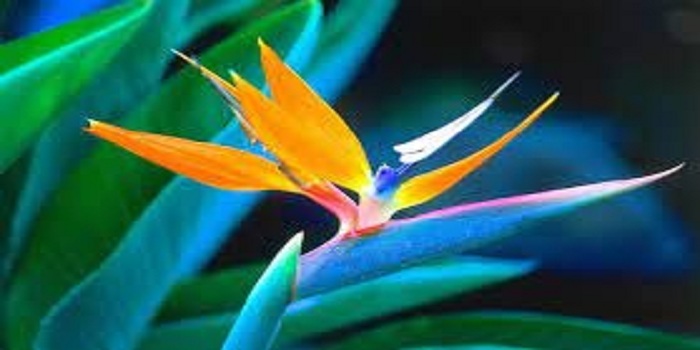 This tropical flower has the meaning of both joy and paradise since it is the quintessential tropical flower. This plant is native to South Africa, where it is also called the Crane Flower. The Royal Botanic Gardens in Kew, South Africa, have been growing this flower since 1773. Sir Joseph Banks, the director of the king's gardens, was the person who named the bird of paradise Strelitzia reginae. As a tribute to Queen Charlotte, Duchess of Mecklenburg-Strelitz, Strelitzia was named after her.
Three blue petals and three orange petals fuse together in one bud to form the bird of paradise's flower. During blooming, each petal debuted, and the resulting shape resembled that of tropical birds flying.
4. Daffodils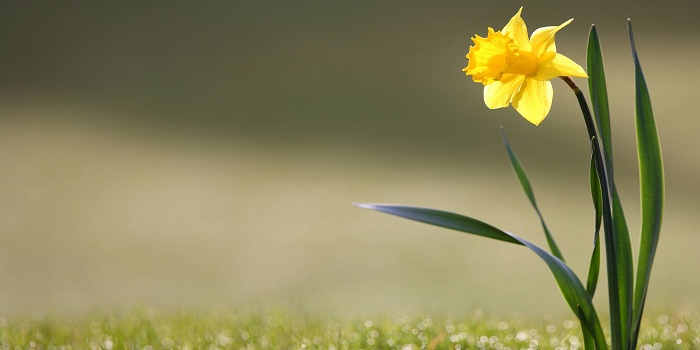 In Latin, the name Narcissus refers to daffodils. Greek mythology attributes its name to a son of the river god. Although Narcissus was beautiful, he was arrogant. He fell in love with his reflection after the goddess Nemesis entrapped him in a pool. Daffodils symbolize new beginnings and rebirth. As one of the first perennials to bloom after a winter frost, it became associated with new beginnings (and the advent of spring). While daffodils do grow in white and orange shades, they are best known for their cheery yellow hues that brighten up the garden.
5. Chrysanthemums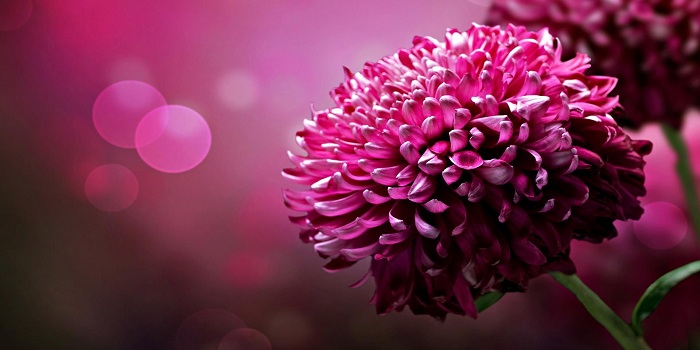 An optimistic attitude, joy, and longevity are associated with this bouquet favorite. You'llYou'll never tire of chrysanthemums because they come in a variety of stunning colors. A birthday bouquet featuring this flower would be the perfect way to brighten someone's day. So, why don't you buy/send birthday flowers to Dubai, Al Ain, and across UAE from online flower stores?
Chrysanthemums bloom in the fall, so they represent joy and beauty despite the approaching winter. Chrysanthemums hold various positive and negative meanings across different cultures and periods.
6. Red Roses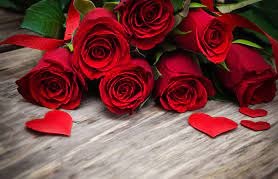 It's hard to imagine a more widely known flower for its meaning than the red rose – and Valentine's Day is to thank! It is common practice to give red roses to lovers and partners as a symbol of romance and affection on the 14th of February, with only one rose doing the job. So, what are you waiting for? Send Valentine roses in Dubai or across UAE to gear up your love season.
The red rose symbolizes love, making it a truly romantic keepsake. The rose is the quintessential Valentine's classic for a reason.
Romantic and passionate goddess Aphrodite is associated with red roses. The number of roses you send and receive also signifies your relationship. So, this Valentine season 2022, avail of red roses delivery Dubai for a romantic celebration to cherish with your love of life.
1 Rose – Love at first sight
2 Roses – Love and affection
3 Roses – A traditional gift for a one-month anniversary
6 Roses – You're infatuated, and you want the other person to be yours
10 Roses – you want to tell them how perfect their love is
12 Roses – This is the classic size bouquet to propose to someone
15 Roses – Give 15 roses as an apology
24 Roses – This huge bouquet of roses says it all: 'I love you.'
50 Roses – The number of roses is quite large! If you're looking to create a lasting impression, this is the perfect bouquet.
100 Roses – You can be assured that your love will last forever and will be in ample supply.
7. Hydrangea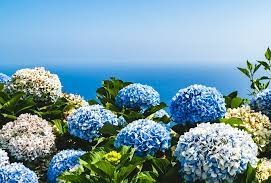 Hydrangeas are a beautiful representation of gratitude for understanding. As such, they are the perfect representation of gratitude and any emotion that's heartfelt. Blue hydrangeas are most closely associated with the meaning of gratitude, while pink hydrangeas are associated with sincere emotions and sincere feelings.
Pink, blue, purple, and green are common colors of Hydrangeas. These colors represent different aspects of the flower:
Pink hydrangeas symbolize heartfelt emotion.
Hydrangeas in blue symbolize apology and frigidity.
The white hydrangea symbolizes bragging or boasting.
Purple hydrangeas represent an understanding of someone special and close to your heart.
8. White Stargazer Lily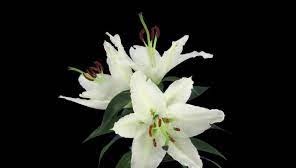 Lilies are a common funeral flower that symbolizes purity, innocence, and sympathy. Floriography calls these lilies symbols of rebirth of the soul, which is why they are associated with the natural balance between life and death. These flowers are always stunning, and even if you wouldn't choose them for a bouquet, they look stunning in arrangements.
9. Peruvian Lily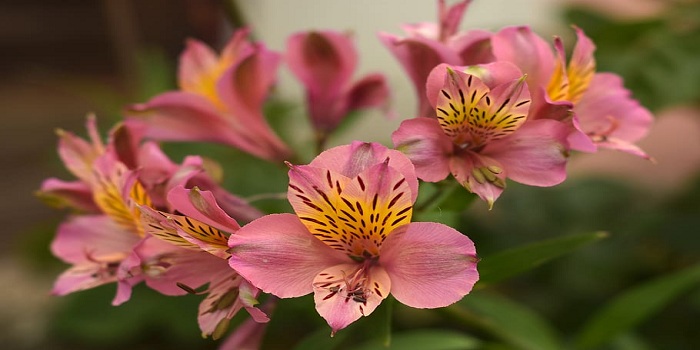 Tropical in appearance, this bloom is a striking addition to any bouquet and is said to symbolize friendship as well as wealth, prosperity, and fortune in the world of floriography. The flower's petals are also believed to symbolize aspects of friendship: respect, humor, patience, empathy, understanding, and commitment. When you give your friend a bouquet of these beautiful flowers, they will appreciate the gesture even more.
10. Tulips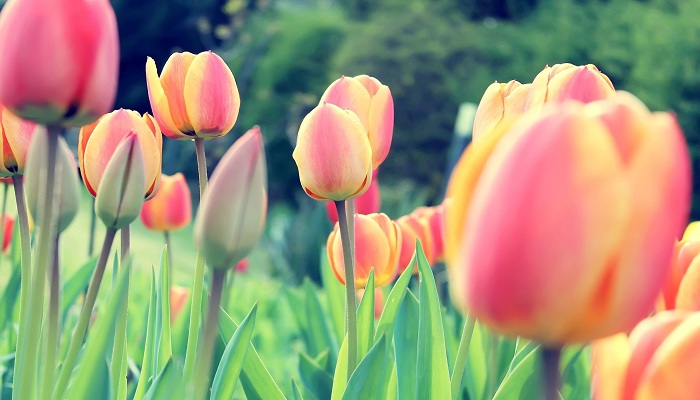 Beautiful and heartfelt, these earrings are a symbol of love. They make arranging easy, whether tulips are included as a single color, in a cheerful mix of tonal blooms, or contrasting colors. Tulips can be arranged in a vase or placed in a Mason jar and draped.
Is your soulmate waiting for you? Are you looking for the one person you would like to spend your whole life with? An arrangement of red tulips would be the ideal romantic gesture. It is a favorite spring flower with a strong red color that is said to symbolize true love. So, with no doubts in mind, just send tulip flower Dubai to your near and dear ones on birthdays and anniversary celebrations.
11. Peonies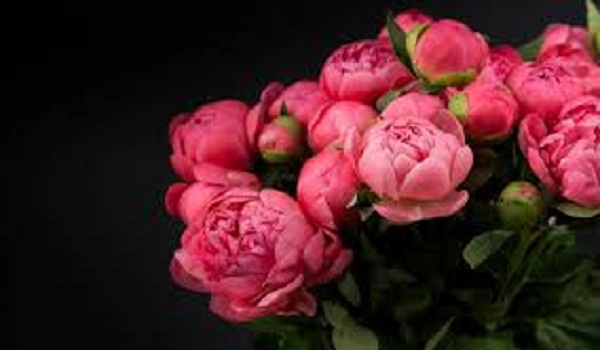 Peonies are the state flower of Indiana. Peonies are also given for twelfth wedding anniversaries because they symbolize honor, fortune, and happy marriage. They have many superstitions associated with them. Peonies are believed to bring good luck if they're blooming, but if they're dry and faded or discolored, it is a sign you need to be on the alert for disaster. It is also considered bad luck if you have an odd number of blossoms. We swoon over the voluminous petals. Who would have thought they represent "anger?"
12. Hyacinth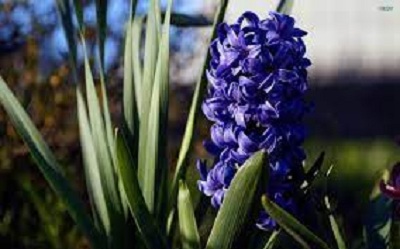 Hyakinthos, an ancient Greek hero, was the inspiration for the name of the Hyacinth. While fighting for his affections, both Apollo and Zephyr killed him. Purple hyacinths have a meaning of sorrow, forgiveness, and regret in the language of flowers because of the flower that grew from his blood, the Hyacinth.
13. Freesia
Fresh freesias are among the most popular flowers for florists in spring, and when it comes to their meaning, they symbolize thoughtfulness. They are the perfect bloom to send when you just want to let a friend know you're thinking of them if they're having a tough time. Freesias will perk them up again with their bright colors.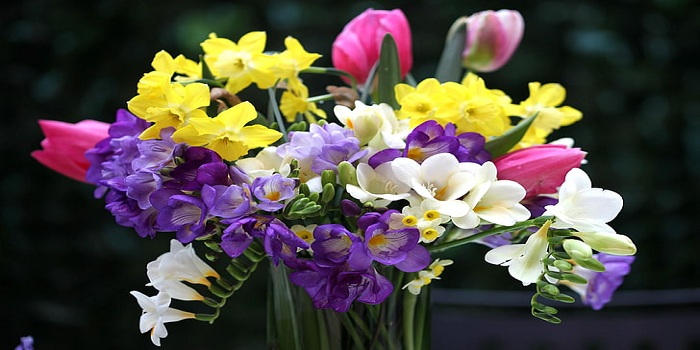 The delicate scent of freesias makes them one of the most popular flowers in the world. Their delicate petals also make them difficult to grow in domestic gardens. A florist often uses them for bouquets and centerpieces since they're so popular as cut flowers.
14. Dahlia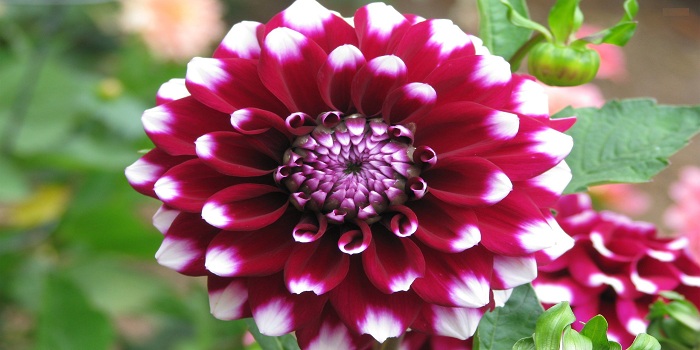 Dahlias are thought to represent a lasting bond, making them perfect for the bouquet of a bride. They are also said to symbolize commitment, so including them in wedding flowers will be a great idea.
15. Calla Lilies
White calla lilies are traditionally associated with marriage, an ancient symbol of chastity, honesty, and innocence. A variety of colors are available in these flowers, which are named after the Greek word for beauty. Different colors of this gorgeous flower offer a different meaning for each hue: purple represents passion, and yellow represents gratitude.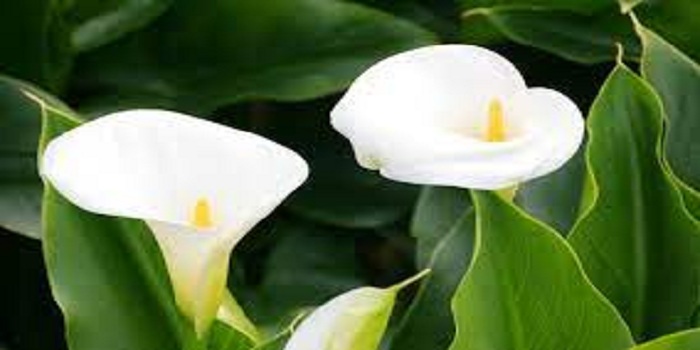 On the other hand, Calla lilies are most commonly associated with purity, holiness, and faithfulness. The Virgin Mary is often depicted with them. Calla lilies are also symbolic of rebirth and resurrection, linked to the resurrection of Jesus in part because they bloom around Easter and partly because their shape resembles a trumpet, which signifies victory.
16. Sweet William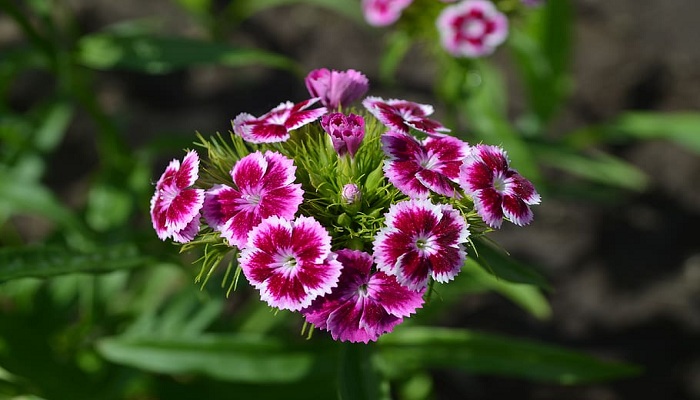 One of the few flowers that symbolize masculinity, Sweet William blooms late in the summer. As far as the flower's meaning goes, it represents gallantry. This is a period-appropriate gift for a knight in shining armor. Historically, Sweet William has been mentioned as a noble, lovelorn hero in romantic ballads.
17. Orchids
Giving your close friend or loved one an orchid is an excellent way to let them know you appreciate the delicate and intriguing plant. And, you can easily get Orchids flowers In Dubai from an online gift store in UAE. Rare and beautiful, orchids symbolize the essence of purity and beauty. Make sure the gift tag contains that information for brownie points!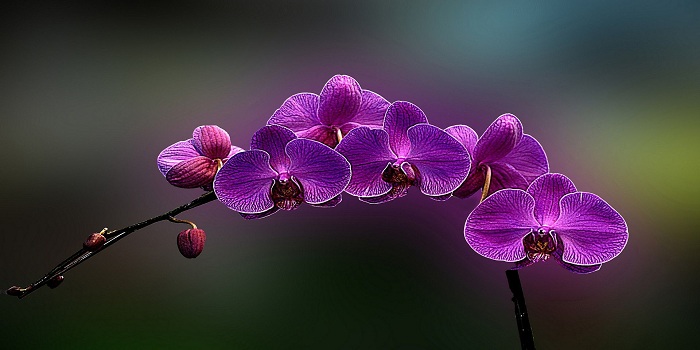 Different colored orchids have a wide range of symbolic meanings, even though orchids are commonly associated with fertility and elegance.
Symbolizing innocence and purity, white orchids are also elegant and respectful.
The pink orchid symbolizes femininity, grace, and joy.
The yellow orchid symbolizes friendship and a new beginning. A yellow orchid is a wonderful gift to commemorate a friend's accomplishment.
Purple orchids are traditionally given to royalty as a symbol of respect and royalty.
The orange orchid represents pride, enthusiasm, and boldness.
18. Sunflowers
Surely the big, cheery heads of the sunflower mean happiness, right? As these beautiful blooms appear, we know summer is coming to an end, but also that crisp autumn days and Christmas, which are just around the corner. They are definitely cheering!Sunflowers were revered as symbols of the Sun God by the Incas, who brought them to temples for worship. The priestesses also wore sunflowers as crowns and on their garments.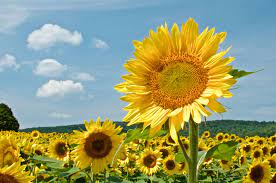 The bright yellow color of the gorgeous sunflower symbolizes vitality, intelligence, and happiness. Yellow is also regarded as a symbol of friendship. Because of their resemblance to the sun, sunflowers also symbolize worship and faithfulness in various religions. The sun is a symbol of spiritual knowledge and truth-seeking.
19. Stocks
Originally from South Africa and the Mediterranean, stock flowers have now spread worldwide. They produce both single and double blossoms and have long grey-green leaves. Their flowers usually come in white, pink, red, and purple shades. A temperature of 70 degrees Fahrenheit is needed for this plant to germinate properly, making it ideal for cool-season gardening.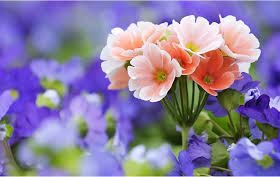 It is believed that this flower symbolizes enduring beauty, happiness, and affection for best friends. There will always be a flower in this genus that creates interest in any bouquet, regardless of the recipient's favorite color.
20. Carnations
Carnation is the most popular flower in every bouquet, translating to "flower of love" with different meanings based on various colors. As they get their name from the word crown, a Greek word, they are thought to represent the coronation ceremony crown. People prefer to buy carnations flowers online in Dubai for their loved ones to send special greetings.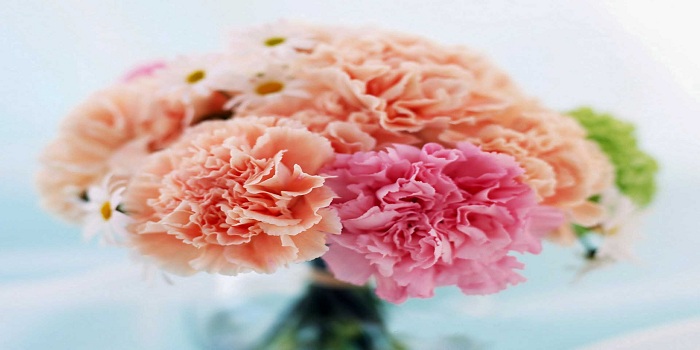 Don't include stripes in your bouquet, as they mean "I cannot be with you." Harsh! The use of carnations to convey a message of love is also a staple of many floral arrangements. Choosing your carnation color wisely is important because each color has a different meaning! Find out what each color means below:
The light red color symbolizes admiration
The color dark red represents deep love and affection
Good luck and pure love are associated with white
The color pink symbolizes deep & true mother's love
Lastly, the yellow carnation represents rejection or disappointment.
Wrap Up
Flowers aren't always a sign of love and happiness. Each one conveys a different sentiment or feeling. So check and cross-check the meaning of these flower collections the next time you consider giving them. With online flower delivery in Dubai, you can get these and other stunning blooms delivered to your loved ones on special occasions, celebrations, and events for remarkable moments. And, in this, Flowerdeliveryuae.ae can be your go-to option. This online platform is indulged in sending and receiving online gifts to UAE with utmost ease and convenience.